Closet Re-design
This is a walk in closet that had the square footage necessary to fit the clients' needs, but it was lacking functionality. They did not want a complete custom redesign and install (which was more of a consideration than usual given the low, sloped ceiling), so I designed the new version using pieces from a large chain store that I could put together myself and arrange to suit their needs.
Garage Organization
This is a very basic garage clean-up, completed in a single 3-hour session. The homeowner had already enacted some great space saving techniques, such as utilizing the wall space, but had not kept up with putting things away. I sorted the contents of the garage, and rearranged the space using things they already owned.
Children's Room
This is a bedroom shared by two-year old twins. There was ample storage in the room, but it was not utilized to its fullest. By designating the closet as the girl's space, and the armoire as the boy's space, each child's clothing and accessories had a specific home. This will also be helpful later on when the children are old enough to dress themselves (and put their own things away!). The changing table is still a shared space, but with like items sorted into separate bins. Anything that no longer belonged in the room was redistributed around the rest of the house, or discarded in an appropriate manner.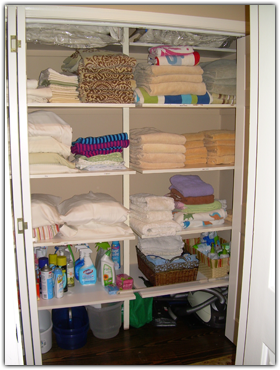 Linen Closet
Here is the finished product of a linen closet organization. There is no 'before' picture, as the closet was mostly empty. Linens and towels were kept all throughout the house, while the centrally located closet sat empty. All towels, blankets, linens, etc. were brought up to the linen closet, and excess items were donated. The remaining items were sorted into piles of like items (king sheets, queen sheets, bath towels, etc.) and arranged on the shelves. The cleaning supplies were added to the lower shelves because this was a great central location to keep them, as opposed to a small nook in the bathroom. Many shelves were labeled to ensure that similar, but different items were not mixed up.
More coming soon!